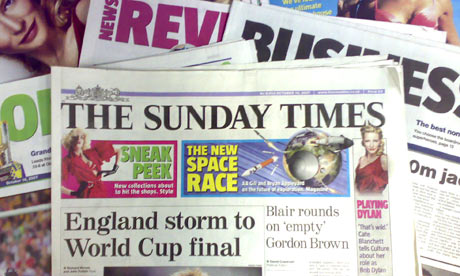 Earlier this year I started writing a regular (about every 3 weeks) column for the
Sunday Times Culture
. I share the

My Generation

column with the former Deputy Ed of

NME

who's now based in New York as the music director of

Nylon

Krissi Murison and Rebecca Nicholson, former Editor of

The Lipster

(RIP), who now freelancedly writes lolness 'n' greatness all over the place.

A few people (3) have asked for links to my previous columns and as the Times site doesn't seem to file them together anywhere, here are the links for the four I've done so far...
My Generation:
Download your favourite bands
Confusingly the title online (which is always different to what was in the paper) says it's about downloading but it was all about cloud-computing services, like

Spotify, Last.fm

, etc and little how-to guide to help deal with the choice paralysis that hits when you can't think what to listen to... Read it here.

My Generation:
No more heroes

A ponder on how creative geniuses have been buried by a beige wave of media-savvy wannabes... Read it here.


My Generation:

Waiting for a star

Is our obsession with new music, killing music? Sort of a retort to this year's Camden Crawl and othersuch dredging for gold festivals. Starts by bigging up Steve Lamacq. Ends with love for Idlewild. Read it here.


My Generation:

Digitise This...

A bit of an explanation of how and why I've decided to try to be more eco-friendly by going CD-free, and talk of alternative ways to share music like
Soundcloud
. Read it here.

The next one runs this Sunday (21st June 2009) and is about politics and music, and how the only revolution of the Noughties that has been 'successful' and has a fantastic soundtrack, is the technological one.

You can find all the

My Generation

columns here.